Given that an increase in government funding for orchestras is unlikely ain't gonna happen, all we can think about is redistributing a fixed amount of money.
In all the hoo-ha about the Ministry for Culture and Heritage's review of the professional orchestral sector, one idea that has wide popularity is to reduce the New Zealand Symphony Orchestra's touring obligations outside of Wellington. The costs saved would be passed to the other orchestras to improve quality overall.
Auckland is arguably quite well served for orchestral concerts: the Auckland Philharmonia Orchestra delivers a comprehensive yet adventurous subscription programme year on year. On top of that, the NZSO does more in Auckland than any other city except Wellington. But do they need to?
Given that the APO is arguably meeting Auckland's bread-and-butter orchestral needs quite nicely, perhaps some NZSO gigs are superfluous to requirements. To offer fewer concerts overall is not ideal, but let's consider the proposition, shall we?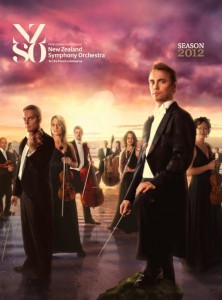 This year the NZSO's 2012 season brochure (warning: 16MB PDF file) lists 13 performances in Auckland, not including the National Youth Orchestra's tour. I'm going to go through them one by one, considering the value they add to Auckland's orchestral calendar.
NB: This is a theoretical exercise treating each concert (mostly) in isolation. I realise there'd be many knock-on effects for scheduling, particularly when it comes to smaller North Island centres.
NB 2: I have my own musical preferences and biases. But this is my turn at playing Fantasy Orchestral Manager, so I get to be arbitrary. You are welcome to disagree in the comments.
NB 3: See my post of 24 July for my declaration of orchestral interests.
—
Friday 3 February – Chinese New Year Concert
Jenny Wollerman (sop), John Chen (pno), NZSO/Perry So
Ross Harris: The Floating Bride, The Crimson Village
Xian Xinghai: The Yellow River Concerto
Luddy van Beethoven: Symphony No 6, Pastoral
Ross's song cycle The Floating Bride is bloody gorgeous, and Auckland missed out on the 2010 Made in New Zealand programme which premièred the orchestral version. (The NZSO was supposed to take MiNZ to Auckland that year but Anthony Marwood, soloist in Ross's Violin Concerto, couldn't fit the extra gig in his schedule.) As for the rest of the programme, the Yellow River Concerto would be no big loss not to see and Beethoven 6 is, well, Beethoven 6. John Chen's in Auckland all the time, and the APO does do quite a lot by Ross. Also, scheduling two Asian guest artists does not a truly Chinese concert make. My most conflicted decision of the year is the first.
Verdict: CUT.
Fri 30 March – Carmen Suite
NZSO Soloists/Vesa-Matti Leppänen
Kenneth Young: Portrait (named as "new commission")
Tōru Takemitsu: Rain Tree (not mentioned in programme)
"This" Arvo Pärt: Fratres (string orchestra + violin solo version, I think)
Rodion Shchedrin: Carmen Suite (credited as "Bizet/Shchedrin")
This showed off the percussion section with a reduced orchestra playing rep that we don't see much. Shchedrin is championed heaps by Gergiev, for instance, but NZ hasn't heard much of him. Fratres gets done all the time, but otherwise this is a worthy addition to Auckland's calendar.
Verdict: KEEP.
Fri 27 April – La Mer
Measha Brueggergosman (mezzo), NZSO/Pietari Inkinen
NB: Brueggergosman cancelled, Sasha Cooke sang instead.
Benny "Hill" Britten: Four Sea Interludes from Peter Grimes
Ernest "Rutherford" Chausson: Poème de l'Amour et de la Mer
Jean "Why did Avid fire all the developers of" Sibelius: The Oceanides
Claude "Bussy Galore" Debussy: La Mer
Really, nothing that the APO wouldn't do in any given year – right down to the world-class singer cancelling a couple of weeks out. The NZSO continues their quest to have Pietari stamp his mark on every note that Sibelius ever penned, and finishes with a work that is played heaps as it is.
Verdict: CUT.
Sat 28 April – L'Oiseau de Feu
Measha Brueggergosman Sasha Cooke (mezzo), NZSO/Pietari Inkinen
Douglas Lilburn: Symphony No 3
Gustavo Dudamel Mahler: Songs of a Wayfarer
"Prince" Igor Stravinsky: Firebird
While Lilburn 3 is often forgotten about (for such a short work it really should be done more), it doesn't quiiite compensate for the rest of the rep, although Pietari conducting Stravinsky's Firebird is a reasonably major artistic statement. I reluctantly deliver my…
Verdict: CUT.
Sat 12 May – For the Fallen
Lynn Harrell (cello), NZSO/Andrew Grams
Felix "The Cat" Mendelssohn: Hebrides Overture
Eddie Elgar: Cello Concerto
Bob Schumann: Symphony No 4
Jeez, the Elgar concerto has been like orchestral audience crack since Du Pré nailed it at the Proms bloody fifty years ago or however long. What's really notable about this programme? Why should the NZSO bring it to Auckland? Well, Lynn Harrell is a big reason, but not big enough. Surely they could have had him do a slightly less overplayed concerto.
Verdict: CUT.
Sat 19 May – Alpine Symphony
NZSO/David Zinman
"Wolfgang West" Mozart: Symphony No 38, Prague
Richard "Not to be confused with Johann" Strauss: Alpine Symphony
Yesss, yes please. The first of the NZSO's two "name conductor" gigs this year, this is the sort of big event that deserves to tour. Big artistic statement from the orchestra.
Verdict: KEEP.
Fri 8 June – Spellbound
Olivier Latry (org), NZSO/Rossen Milanov
Paul "Duke of Earl" Dukas: The Sorcerer's Apprentice
Francis "Funky Chicken" Poulenc: Organ Concerto
Nikolai "Skyrim" Rimsky-Korsakov: Scheherezade
None of these works by themselves are really justifiably essential to Auckland. Thomas Trotter did the Poulenc in 2010 on the new organ, but considering there are only about one-and-three-quarters organ concertos in the repertoire, what can ya do? Buuut… it's Olivier Latry on the new Klais beast, which still has novelty value. And I like the rest of the programme enough for it to stay. Also, it further justifies keeping the following night's gig.
Verdict: KEEP.
Sat 9 June – Made in New Zealand – Wonderland
Helen Medlyn (sop), NZ String Quartet, NZSO/Hamish McKeich
Chris Cree Brown: Celestial Bodies (NB: programme simply says "Brown"… really?!)
Lyell Cresswell: Concerto for String Quartet
Gillian Whitehead: Alice
It took so long for Made in New Zealand to become more than a Wellington-only affair that for Auckland to lose it would be a tragedy. Shit, it should be going to Christchurch too, but of course a composer would say that. Nice touch that Alice is getting another outing in Auckland, considering it was premièred when Gillian was the APO Composer-in-Residence.
Verdict: KEEP.
Sat 28 July – Die Walküre
Simon O'Neill (ten), Simon's mates (singers), the Valkiwis (singers), NZSO/Pietari Inkinen
Tricky Dick Wagner: Die Walküre
Considering the rehearsal time that went into this, it'd be a crime to do only one performance in Wellington. Major artistic statement from the NZSO and Pietari. Must not be excluded from the Auckland calendar.
Verdict: KEEP.
Sat 18 August – Cathedral of Sound
NZSO/Simone Young
Wolfpack Mozart: Symphony No 36, Lint
Antonio Banderas Bruckner: Symphony No 5
World-beating antipodean conductor with the repertoire she's making her own orchestra famous for. Why wouldntcha? Shows what the NZSO's really capable of.
Verdict: KEEP.
Fri 28 September – Around the World in 80 Minutes
Stephen Hough (pno), NZSO/Andrew Litton
Anthony Ritchie: Diary of a Madman: Dedication to Shostakovich
Chamillionaire Saint-Saëns: Piano Concerto No 5, Egyptian
Dmitri "Emo Glasses" Shostakovich: Symphony No 5
Not a promising concert title, really – it makes you think that the New World Symphony is just round the corner (ooh cause it's from North America!!). While the Ritchie would be good to play as widely in NZ as possible, it's the sort of piece that'll come around and that the APO would probably end up doing anyway, pairing with Shostakovich. Given Anthony's prolific CD release schedule lately, it won't be long until you can buy a copy.
Verdict: CUT.
Fri 19 October – Forbidden Love
Nicola Benedetti (vln), NZSO/Pietari Inkinen (edit: Miguel Harth-Bedoya, I got this wrong)
Ken Young: Dance
Peter and the Wolf Tchaikovsky: Violin Concerto
Lenny Bernstein: West Side Story Symphonic Dances
Peter Piper Picked a Pack of Pickled Tchaikovskies: Francesca da Rimini
Hrm… yeah… nothing that wouldn't come around every few years, even counting this 1997 work from Ken (at a stretch). Leonard Bernstein doesn't strike me as particularly Pietariesque repertoire either. (Edit: This changes the complexion for me… seeing the APO do the WSS Symphonic Dances in the Harth-Bedoya era was a seminal moment in my high school music education. Buut… overall verdict still doesn't change.) No big loss to lose the Tchaik concerto this season.
Verdict: CUT.
Sat 17 November – Mahler 7
Pietari Inkinen (cond. & vln), Vesa-Matti Leppänen (vln), NZSO
Johann "Belle and Sebastian" Bach: Double Violin Concerto in D minor
Gustav Eiffel: Symphony No 7
The NZSO's been on a Mahler kick these last few years and they're trying to get through the whole repertoire with Pietari. Worthwhile enough to keep this in Auckland, and the Bach double is a nice touch which doesn't come round quite as often as you'd think.
Verdict: KEEP.
—-
So a quick recap:
Keep 7: Carmen Suite, Alpine Symphony, Olivier Latry, Made in New Zealand, Die Walküre, Bruckner 5, Mahler 7.
Cut 6: Chinese New Year, La Mer, Firebird, For the Fallen, Around the World in 80 Minutes, Forbidden Love.
In reality you're keeping six trips and cutting five: Olivier Latry & MiNZ are on the same trip, as are La Mer and Firebird. Notably, in previous years, the NZSO has done two programmes on consecutive nights much more frequently.
So cutting five trips and six gigs would save… how much? Well, I wish I could hazard a decent guess, but when it comes to the touring the NZSO, the Ministry for Culture and Heritage's discussion document goes into very little financial detail indeed.
That's probably because the NZSO's 2011 annual report sheds little light on the specific costs. The most relevant figures I can find are for "Direct Expenses from Orchestral activity". Page 24 says those expenses were $6.31 million to the year ending 30/06/2011, and $3.74 million to the six months ending 31/12/2011. Their target for the year ending 30 June 2012 was $5.60 million (p.33).
It'd be interesting indeed to see a breakdown of that pretty hefty line item. It excludes personnel costs ($10.22 million annually), as well as general operating costs and property rental. I imagine it includes venue hire, as well as the many activities of the education programme. But within that very broad category, there will be a lot of flights, a lot of hotel rooms, buses, truck hires and ferry crossings.
I appreciate that four of my six "cut" programmes are being performed in smaller centres too. I don't want to deprive Hamilton, Napier and Palmerston North of any of their concerts, and I'm sure that adding Auckland onto an existing tour is more economical than making a single run up from Wellington.
But the question remains: just how much does the average NZSO trip to Auckland cost? While the orchestra remains a Crown Entity and subject to the Official Information Act, an enterprising journalist would do well to find out.